13 November 2006
I cant believe how quickly the summer has gone and i feel so guilty for not updating my site for so long...please accept my apologies.
Our Australian and New Zealand tours have now been completed. We all had a wonderful time there. The show was well received and seemed to be very popular with all who watched.
We now have the pleasure of touring the UK and had a great time in opening the show in Manchester and getting our 8 month UK run under way.
Its so nice to be back in the UK , it feels almost as a home to me and i am really looking forward to seeing lots of the english towns again. So far , the show has performed in Manchester and Bradford and we now have the chance of a rest week to catch our breath after a hectic opening week.
If you have any questions , please do not be afraid to ask via my site and i promise to check the site more regularly now that i am back in the UK Lots of Love

---
12th June 2006
I cant believe how quickly the last few months have passed by. Since my last message , I have spent my time in Moscow rehearsing for the Imperial Ice Stars new production of Swan Lake on Ice.
I was so happy to be given the role of Odette to perform, it is such a dream role for any woman. I was even more delighted when I read the production storyboard and saw the way that our director wanted to present the character, it was really a nice suprise and beautiful bonus to see the additional ways in which Odette would present herself.
Our rehearsal period during March/April/May was a very hard schedule but very creative. I felt so lucky when I learnt that Tony Mercer (our director/choreographer) had invited Evgeny Platov to help with the staging and even luckier when Evgeny was given the task of setting my choreography for the final solo of Odette. In the space of 3 short months, I had spent time on ice and worked with Christopher Dean and Evgeny Platov ....dreams do come true!!!!
After the moscow rehearsal period , we all flew to sydney and had the final preparations for putting the show onto the stage at the Lyric Theatre in Sydney. This was a very intense time with dress rehearsals, twice a day for 7 days, all leading upto our premiere night on the 7th June.
I can tell you that the costumes and sets for the show are absolutely beautiful, I was stood in shock when I saw everything for the first time. Our producers had given the most wonderful setting for any show that I have performed in and would go further and say, more beautiful than I have seen in any show.
All the things I have mentioned led me to my opening night, which although filled with nerves turned into a beautiful experience. The chance to perform Odette on one of the worlds greatest theatre stages was a night that i will not forget for a long time. It was also lovely to meet up with Matt Evers, whom I had worked with on 'dancing on ice' in the UK. Matt is in Australia preparing for the Australian version.
I had been kindly invited by the Australian Producers, and Chris and Jane to take part, but really didn't want to pass on the opportunity of performing Odette in Swan Lake on Ice for its World Premiere. Our Australian and New Zealand tour will run until mid september and I am so looking forward to seeing some of the beautiful cities in these 2 countries. I will hopefully have more time, now that rehearsals are complete, to keep my page upto date and answer all the kind emails.
I have added some photo's from our new show to the site and I do hope that you will enjoy taking a look at them.
Lots of Love to everyone.
---
3rd March 2006
My time here in the UK is almost finished, I will be at the Dancing on Ice final on saturday as a guest, and am really looking forward to seeing who wins, and also having a chance to catch up with everyone.

I am flying back to Russia on sunday and will be appearing in the Ice Show to celebrate the homecoming of our Russian Olympic skating champions, which will be performed live at the Luzhniki Ice Stadium on tuesday 7th March, and then televised throughout Russia on wednesday 8th March. My skating company (Imperial Ice Stars), have been asked to do a guest appearance, and I will also be performing a 'pairs' piece with Vadim Yarkov, its such a great honour to be able to do that, and share the ice alongside all our champions. Watch out for photo's and a video on my site in the near future.

The imperial ice stars have organised a competition with dancing on ice , to give away tickets to the UK premiere of our new show, check the Dancing on Ice website for details, it sounds like a fun prize.

Congratulations to Granada for producing a great tv show, which I really enjoyed taking part in (thank you Katie and Jane), and which has helped so much in bringing my cherished sport of ice skating so much into the public eye again. I hope that it helps the UK nurture some great future skating talent. Also a huge thank you to Chris and Jane, it really was a pleasure and an honour to work alongside you. Thank you to Tony Mercer and James Cundall for letting me have time off from the Imperial Ice Stars, and letting me take part in the show.

I think we all must give a huge vote of congratulations to all the celebrities for taking part . Only one can take the trophy, but really they should all be awarded, because they are all winners, based on the hard work and effort they put in just to try and master the art of the blades. Well done all of you.

And one last big thank you to John, you were my winner, and the pleasure was all mine.

Lots of Love
---
One for the album: 14 February 2006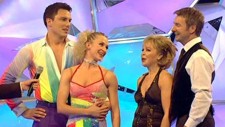 Apart from all the fun and enjoyment that I had working with John on Dancing on Ice, and all the lovely new friends that being involved in the programme has introduced to myself, one of the biggest thrills for me, was to work with Chris and Jane.

Torvill and Dean, is a name that is synonomous with the highest quality figure skating around the world. To actually have the chance to work with them will remain with me for a long time, and this lovely photo of Chris, Jane, John and myself, will take pride of place in my collection.

Thank you Laura, for sending it to me.'
---
Dancing on Ice: 6th February 2006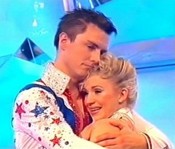 'Absolutely shocked and stunned, those are still my emotions this morning. Of course, somebody has to go out of the competition each week, I just didnt think it was our time, and John had skated a difficult programme so well. I feel absolutely devastated for him, that after all his hard work and dedication, it should end in such way. I can honestly say that the 'skate off' result was the correct decision, Stefan had 'skated' his programme so well, but I was shocked to find ourselves in the 'skate off'. I guess that everybody had thought we were safe after the judges first voting, and never thought that we would need saving with votes, and I was told on saturday that we had 'slipped' into the skate off by just 20 votes. Such is life.

I want to say a huge thank you to everybody who has sent messages and phoned since saturday, it was so nice to know that you had enjoyed our contribution and all your words really lifted me. I also want to say a huge thank you to all John's supporters and friends who have sent messages, I am so happy that in your sadness and feelings for him, that you have included myself in your thoughts.

I also want to say thank you to all members on the www.fsuniverse.net site, www.skatingforums.com site, and www.digitalspy.co.uk site, your comments have been so nice to read.

I have throughly enjoyed being part of 'team Barrowtenko', it was great fun, and I really believe that we will skate again together.
---
Reviews: Olga Sharutenko as the Lilac Fairy in The Sleeping Beauty on Ice
As the Lilac Fairy, Olga Sharutenko glows with more than good deeds: her graceful ice dancing, assisted by the seemingly effortless partnering of her adorable Lilac Prince, Artem Knyazev, is a joy to watch. The Sydney Morning Herald, Australia
Casting a lyrical spell is Olga Sharoutenko's sublime Lilac Fairy (who at one point sheds her skates for pointe shoes). Tonight Pretoria, South Africa
Olga Sharoutenko as the Lilac Fairy is a joy to behold. The Stage
[The role of the Lilac Fairy] is serenely filled by Olga Sharoutenko. The Herald, Scotland